Journal focused on Ocean Solutions
In June 2019, the Ocean Visions partnered with Frontiers Publishing to launch a new journal section Ocean Solutions in Frontiers of Marine Science.
Read Papers
Scope
The goal of the section is to develop an integrated and adaptive knowledge base of ocean solutions research that will facilitate the translation of science and engineering into applied solutions at regional and global scales. In particular, this section invites a diverse set of contributions types (e.g., research articles, perspectives) that focus on the science and engineering that is enabling ocean solutions.
Submit Publications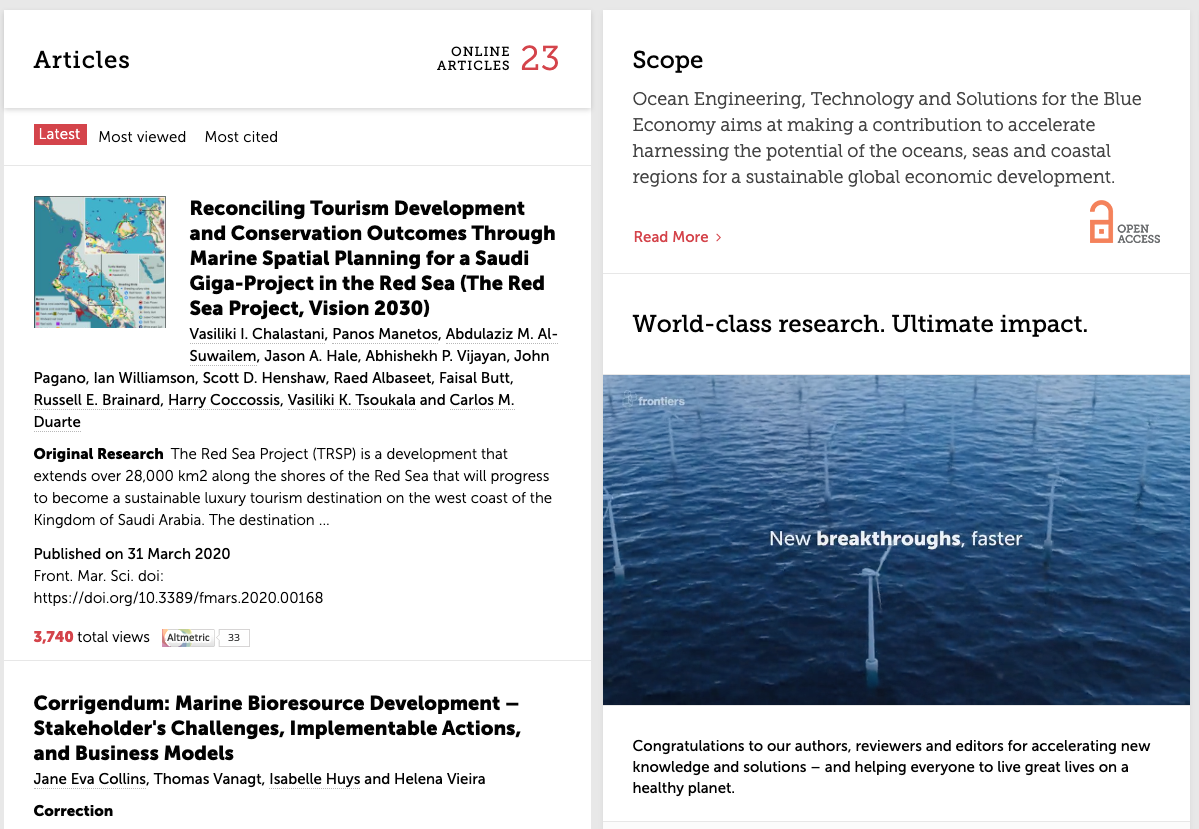 Special Issue for Ocean Visions Summit 2019
The OceanVisions initiative aims at developing an integrated knowledge base of the natural and social sciences, and engineering that enable ocean solutions. For this reason, we had our first special collection with the launch of the Ocean Solutions in Frontiers of Marine Science, entitled:
Successes at the Interface of Ocean, Climate, and Humans
Ocean systems are suffering from human and climate pressures. For many decades, local stressors such as overfishing and pollution, have been the primary causes of degradation in ocean health.  More recently, however, the social-ecological impacts of global stressors related to climate change have become more apparent and are likely to increase in the coming decades. Fortunately, there have been notable successes as marine scientists, engineers and social scientists have grappled with the challenges. Ocean solutions enabled from science and engineering are emerging from different sources of ocean research (e.g. academia, NGOs, private sector). Nevertheless, these successes often receive less attention than the grim "business-as-usual" scenarios.This has resulted in a widespread failure to recognize what has worked and is working, why the success has occurred, and what is needed to scale up and replicate the success.
As part of the OceanVisions2019 – Climate summit on success in resilience, adaptation, mitigation and sustainability, this research topic will bring together analyses of the some of the most important successes achieved or in progress, in the areas of adaptation, mitigation, and sustainable development:
Adaptation
The resilience of Ocean Ecosystems and Organisms. What is being done to increase the ability of ecosystems and species to resist or bounce back from stressful events related to climate change.  Examples include the role of reducing local stressors and new advances in bioengineering to increase resilience.
Adaptive Ocean Social-Ecological Communities. What is being done to help nature help us to manage the inevitable climate change that we will face in coming decades. Examples include multi-scale social-ecological dynamics, from how fisheries become more resilient to how coastal cities and small communities adapt to changing ocean and climate conditions.
Mitigation
Blue Carbon. What is being done to use the ocean itself to compensate for carbon dioxide emissions.  Examples include expanding the role of seagrasses, seaweeds and wetlands to act as carbon sinks to reduce climate change and locally moderate ocean acidification.
Ocean Energy Systems. What are the current developments that take advantage of the ocean to support non-carbon based sources of energy.  Examples could include implementation of wind, wave and tidal technologies.
Biodiversity and Sustainable Development
Sustainable Food and Coastal Development. What is being done to increase our ability to feed human populations and to plan and develop infrastructures and coastal economies while preserving nature's capital and in the face of climate disruptions and sea level rise.  Examples could include examples in sustainable aquaculture, fisheries, tourism, and coastal infrastructure.
Protecting Biodiversity. What is being done to ensure that biodiversity is sustained side by side with our use of the ocean and coasts. Examples include marine spatial planning and strategies for monitoring biodiversity (remote sensing, DNA).